Bremerton is the Heart of Our Quality Fleet
Bremerton is the largest city on the Kitsap Peninsula and home to the Puget Sound Naval Shipyard and Naval Base Kitsap. The community is connected to downtown Seattle by two ferries: a 60-minute ferry that carries both vehicles and walk-on passengers, and a 28-minute Fast Ferry.
As Bremerton's 
historic
 center, the downtown district has seen the most dramatic change over the last decade with new apartments and attractions like Harborside Fountain Park, a boardwalk, and multiple naval history museums. The Admiral Theatre, a restored 1942 
Art Deco
 theater, is Bremerton's most prominent venue for live music and entertainment. The downtown area is known for breweries, coffeeshops, art galleries, and restaurants showcasing diverse cuisines. The city is in the beginning stages of creating a public square on Fourth Street to honor local music icon 
Quincy Jones
. Across the water from Downtown is 
Manette
, a neighborhood on a separate peninsula that functioned as its own town from 1891 to 1930.
Bill Gates Sr.
, father of the Microsoft multi-billionaire, was born in Bremerton and before his law career operated a furniture store and ice cream parlor in downtown Bremerton.
Average Temperatures in Bremerton
Bremerton's  warm season lasts for 2.7 months, from June 23 toSeptember 14, with an average daily high temperature above 72°F. The hottest day of the year is August 3, with an average high of 78°F and low of56°F.
The cool season lasts for 3.5 months, from November 12 to February 26, with an average daily high temperature below 51°F. The coldest day of the year is December 20, with an average low of 36°F and high of 45°F.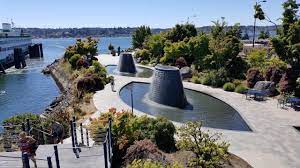 Catching the Washington State Ferry at Harborside Fountain Park in Bremerton.